Soyabean and its by products top the food charts of a health conscious population. Versatality and nutritional value of soy make it a great protein alternative to meat and poultry.
Uthappam is a traditional south indian tiffin delicacy. But traditional uthappam is made out ordinary dosa batter (rice and black gram), with onion and tomato topping. Less frequently other veggies and cheese too are used. I've given this traditional recipe a completely original twist. It's a soybean batter with soy chunk topping. In the begining, I was a little apprehensive about the outcome, but the final outcome was a pleasant surprise!

For the batter
Soyabean - 1 cup
Raw rice - 1 cup
Black gram (urad/uzhunnu) - 3/4 cup
Sesame oil (ellenna) - 2 teaspoons
Salt to taste
Soak the soybean overnight. Clean and soak the rice and black gram for about 2 hours. Grind each to a smooth paste adding enough water.Mix to make batter of dosa consistency. Add the sesame oil and salt to taste. Let ferment for 3 hours. refridgerate till half an hour before use.
For the topping
Soya chunks (textured soy protien) - 1 cup
Onions - 1 large (finely chopped)
Carrots - 1 (grated)
Coriander leaves (cilantro/kothamalli) - 1 cup (chopped)
Green chillies - 4 Nos
Ginger - 1" piece (finely chopped)
Red chilli powder (cayenne pepper) - 1 teaspoon
Turmeric powder - 1/4 teaspoon
Tomato ketchup - 1 teaspoon
Salt to taste
Boil the soychunks in hot water for a few minutes. Drain and soak in cold water. Squeeze dry. Use a food processor or mixie to mince the soy chunks (like keema).
Heat 2 teaspoons of oil in a skillet. Saute the onions, ginger and chilies. Add the carrots and soy chunks. Add the chillie powder and turmeric powder. Saute till the soy chunks start getting a light brown. Add the tomato ketchup, chopped coriander leaves, and salt. Cool.
Heat a dosa pan (flat girdle). Use a kitchen tissue or soft cotton cloth to rub some sesame oil onto the girdle. This will prevent sticking of the uthappam.
Pour two ladlefuls of the batter onto the hot girdle. Sprinkle the topping mixture liberraly on top. Use a conical lid to cover the pan and simmer cook the dosa till the sides turn a golden brown. Lightly dribble some sesame oil over the topping. Turn over and cook covered for another minute or two. Serve hot with a chutney of your choice!
This is my entry to
MonsoonSpices' JIF - Soya
event. The event is on at
http://www.monsoonspice.com/2008/07/announcing-jfi-aug-08.html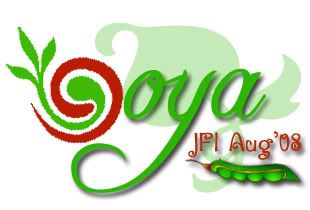 I am sending this entry to Lore's 'Original Recipe' event too. The event is on at http://culinarty.sapiensworks.com/articles/original-recipes-monthy-round-up-event/